Our Mission & Vision
The mission of Liberty Fellowship Church is to magnify the name of Jesus Christ, love God, and to love others.
The vision of our church is to glorify our God and Savior, Jesus Christ, and to make true disciples to all by means of missionary activity and support, to minister the ordinances, and to edify believers.
Leadership Team:
Our leadership team recognizes the authority of God, and realizes that we are shepherds who serve under the Chief Shepherd, Jesus Christ. We desire to devote ourselves to prayer and to the ministry of the Word. Our passion and goal is to equip the believers for the work of the ministry until we all attain maturity in the fullness of Christ.
Pastor Dan Foster
Pastor Dan has a passion for carefully unpacking the truths of Scripture. He has served at Liberty Fellowship Church for thirty years. He has four children. Dan has ministered for over 50 years. Pastor Dan has served on several boards on the state and local levels. Pastor Dan is passionate about serving and has a heart for helping the lost find salvation through Jesus Christ our Lord.
Amy Foster Duncan, Special Music and Choir Director
The Bible has a lot to say about music, and Amy's role is to lead the church's worship of God in a way that matches the character of God. Amy is an accomplished musician, who has ministered at Liberty Fellowship Church for the past 15 yrs. Amy and her husband Kevin have two children, and is eager to share her gifts with the church.
Ashley and Jonah Nickles, Youth Directors
Ashley and Jonah Nickles have been at Liberty Fellowship Church for 8 yrs. They both graduated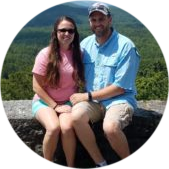 from ETSU where Jonah received his degree in teaching. They have two children, Isaiah and Levi.
Ashley and Jonah both have a passion for working with the youth especially our teens. They teach our Youth Sunday School Class. They do special projects and with the youth, including black lights programs, taking them on special outings and to Youth Camp. We are blessed to have them here at Liberty Fellowship.